Listeners turn down the 2023 Hottest 100
Eddie Russell reports on the Australian youth broadcaster's struggle to maintain its title as a youth station.


Listeners have lost interest in Triple J's biggest day of the year. Photo: Wix Commons
An identity crisis has been blamed for driving away swathes of Triple J's audience base as its flagship event, the Hottest 100, suffered another alarming drop in numbers.
The Hottest 100, the popular annual countdown held at the start of each year, has now lost nearly 800,000 participants since its record-breaking count in 2019, when it received 3.2 million votes.
University of Canberra senior lecture in communications Cathy Hope said there are two main factors at play which may have caused the slump.
"It is possibly related to a combination of the decline in the number of young people listening to Triple J and disenchantment from older listeners with the songs now making it into the Hottest 100 playlist," she said.
"Triple J founded and defined itself 'against' pop music. Long-term fans might see the collapsing of boundaries in the Hottest 100 between 'indie' and pop – such as the appearance of Beyonce – as a betrayal of its identity."
Ex-listener, 21-year-old Zac Fahey, says the station needs to go back to its roots, rather than focusing on established international artists and populism.
"During the 2021 countdown, me and my friends spent most of the day cringing at annoying jokes and found the increasing amount of TikTok songs and Americanisms frustrating," he said.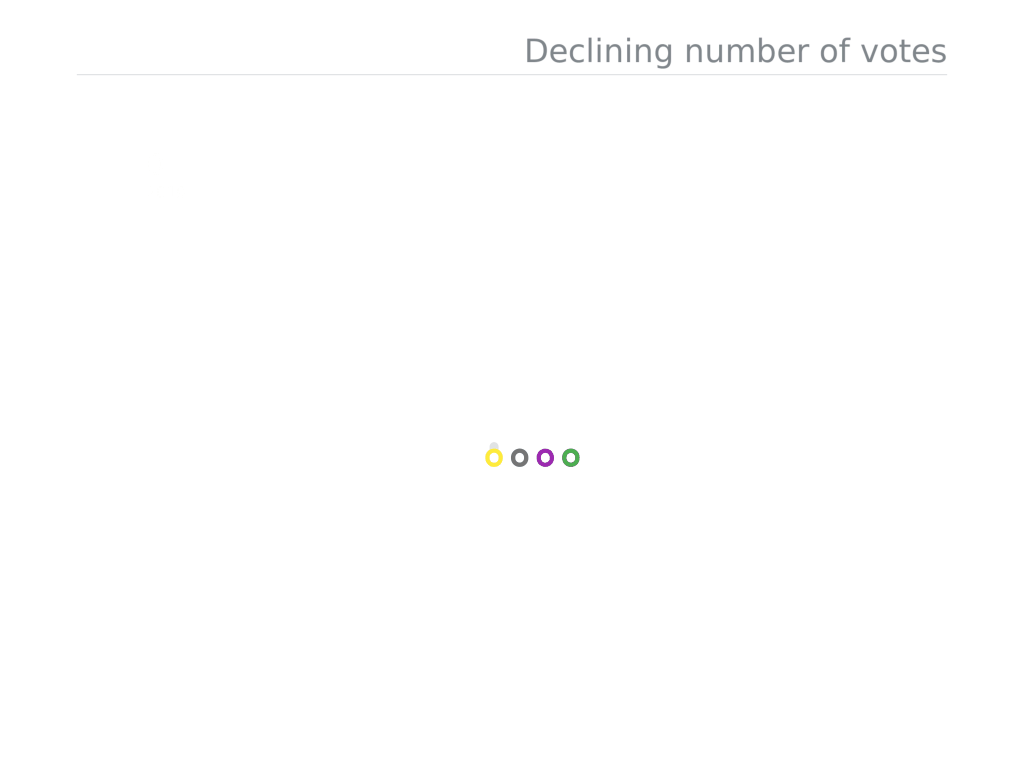 The waning interest in the Hottest 100 may reflect a larger trend of decreasing day-to-day engagement for the alternative youth broadcaster.
Radio ratings for 2022 indicate that Triple J suffered considerable losses in 18-to-24-year-old listeners – its target demographic – to other commercial stations such as Smooth and Gold, which primarily play music from the 1970s to 1990s.
Ms Hope said that representing the wide scope of alternative music on a national basis makes it difficult to keep all audiences interested.
"One issue for Triple J is that it has to play a [diverse range] of genres. This means that if you're a fan of thrash metal, you'll also have to listen to folk and electronica in between," she said.
"The amount of love for retro music from some of the youth demographic is really strong and adds more diversity into their playlists – particularly for pop songs."
While the ABC claims that 26.4 per cent of 18-to-24-year-olds on radio choose Triple J, they only make up 14 per cent of the station's listeners, outnumbered by those aged 40 and up by over 10 per cent.
Nearly half (48 per cent) of the station's audience are 25-to-39-year-olds.
Mr Fahey, one of the many to have abandoned the station in the past six months, says his generation was leaving the broadcaster because they didn't connect to its current output.
"The increased airplay of mainstream international artists, rather than homegrown artists, made it feel like Triple J lost its position as a source for new Australian music," he said.
"With how accessible podcasts and music streaming [are], I understand how this might influence Triple J to play established artists to lure ears, however I feel this has only damaged their brand as an Australian youth broadcaster."
With a decline in listeners, a frenzied marketing campaign for the Hottest 100 voting period appeared to reflect a certain level of anxiety.
In just six weeks, Instagram posts encouraging Triple J's 872,000 followers to submit their top 10 songs increased from previous years' efforts.
Ms Hope said the nature of Triple J's purpose is at odds with its current state.
"Organisations like Triple J pave the way for change and then their popularity leads to greater acceptance and consumption of their offering, which in turn undermines their original role and vision," she said.
This paradoxical nature means the current downturn the radio station is experiencing was likely inevitable.
But what does this trend mean for the Hottest 100?
"I think it would be difficult for Triple J to break its own records unless it sought another larger market or incentivised the occasion in a way that is more attractive for the youth demographic," Ms Hope said.
Mr Fahey said a return to their roots could help consolidate an important listener demographic and ease criticism.
"Playing more unearthed music and spreading the airplay over many Australian artists rather than just giving love to the few indie darlings and mega-stars they play over and over might win back disgruntled fans," he said.
Perhaps a quality over quantity approach will return the station to a perceived former glory that so many punters bemoan the departure of.
Triple J did not respond to a request for comment.
Did you vote in the 2022 Hottest 100?